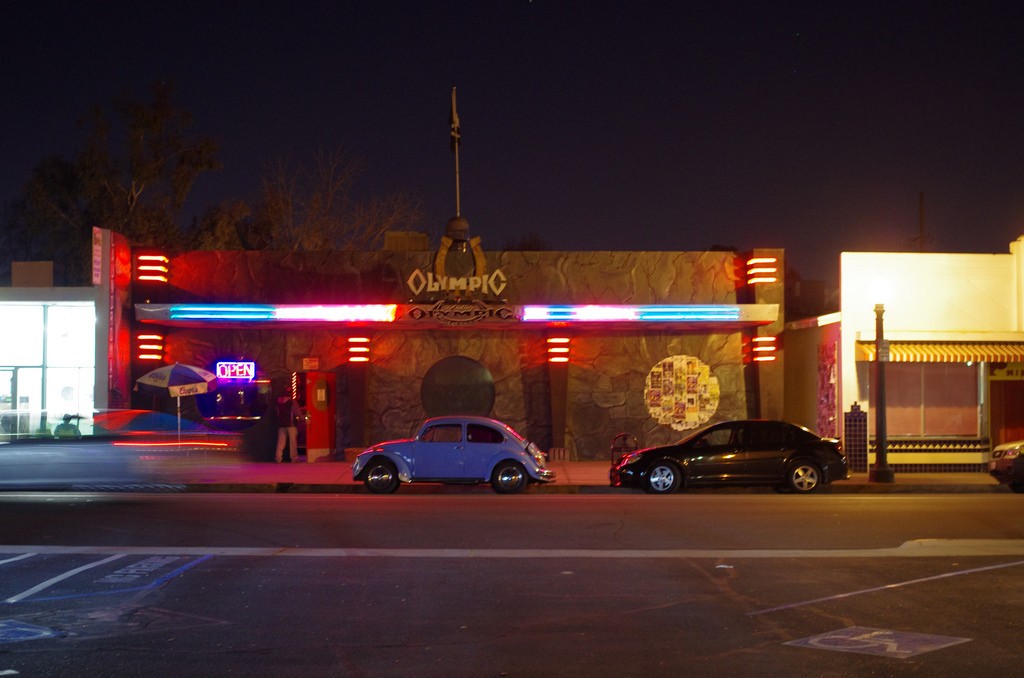 I dunno if you heard about this but Audie will soon no longer be running Audie's Olympic club in the Tower District. Crazy, right?
Hey, don't ask me what happened, I'm sure Josh over at Fresno Beehive has something up about it or soon will. Rumor has it that the Audie Camp is saying the owners of the building want to do their own thing there and are pushing him out. The Owners Camp (total rumor, bro, ok?) say they would like him to stay if he met with the obligations of the lease.
Totally not my business. All I know is I have spent a lot of time in Audie's Olympic. Not as much as of late but I think maybe I've gone to… 90? 100 shows there? Yeah, sounds kinda right.
So with that, here are my Ten 9 Cool Ass Things [I Will Remember] About Audie's Olympic:
The Tub Of Beer: Not every place in town has a horse water trough full of ice and cheap beer cans. Even if you are not hipster enough to like PBR (I apparently am not), you had to order one, just so you don't stand out too much.
The Chalk Event Board: I am a real nerd about chalk boards. No self respecting craft beer tap room doesn't have one. Audie's has one. Checking out the board during band breaks is a classic past-time for me.
The Bathroom Door Sticker Art: I can only assume the girls bathroom is the same but I KNOW the boys has always been covered in band stickers. I really haven't checked it out close enough to see if they are ever peeled off or if there are years and years of layers.
Audie Chilling In the Corner of the Bar: If you look real close, behind the soundboard, you just might catch a glimpse. Always felt like I was looking behind the curtain at the Wizard of Oz.
The Wall Carpet! Zanny I say (and probably helps with the sound). And all the stuff above the bar. ZANNY!
Pool Table/Merch Table: Of all the years going there, including when it was Club Fred, I think I saw the pool table actually functioning as a pool table, twice. Love picking up merch there so that is ok. Always bring cash for band merch, people, it seriously helps the bands survive.
The Sidewalk Scene: In between bands, more than half the club spills out onto the sidewalk in front of Audie's. And most aren't smoking, just getting some air and catching up with folks. Because have you tried having a conversation inside a rock club?
The Couches: It was super rare that I would get the couch in the center of the dance floor. I would occasionally get the one under the control booth. This was always a mistake because you never got up again.
Seeing Rising Bands: Whether it was a Fresno act or a touring act just trying to get noticed. There is no greater pretentious dude joy than to be able to say "I saw that band play at a small club in Fresno before they hit big." Really this is [was] my favorite thing. And you get to talk to the bands outside during the sidewalk sessions.
Seriously, much love and respect to Audie and what he has done for the music scene in Fresno, it can't be said enough. Safe travels on his next adventure.
Hopefully the space continues as a rock club. It just has too. Even if the wall carpet has to go.
[photo from David Prasad]
Please follow and like us: