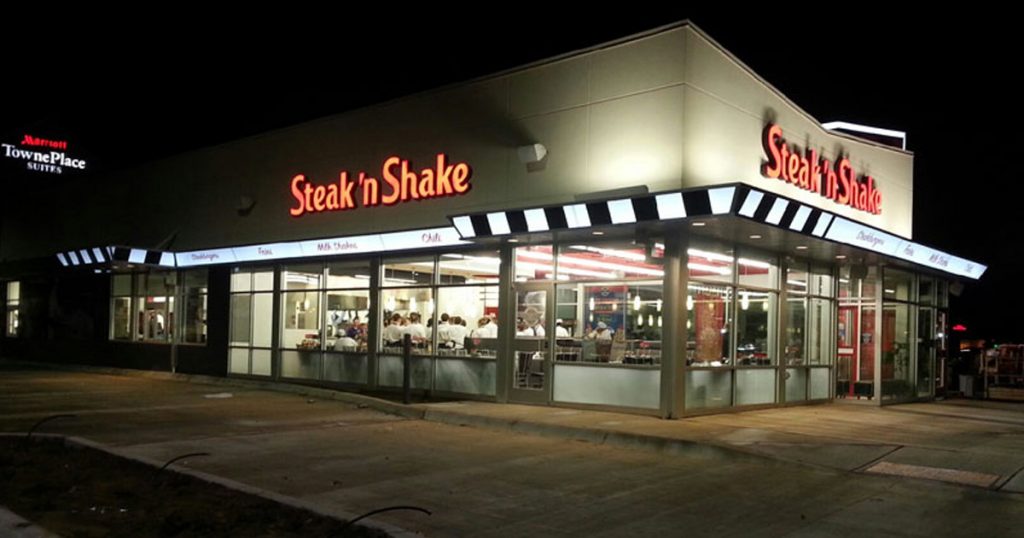 Steak n' Shake Fresno has closed!
UPDATE: Was it the location? Was it the prices? The menu? Your lazy ass not caring about a chain you knew nothing about?
Yes. Yes. Yes. Yes.
Check out this for more info but you can no longer go to Steak n' Shake in Fresno. It has closed due to lack of business.
I really don't think the problem was putting it in the Sunnyside Area of Fresno. It was that particular spot that was the problem. Very odd, like you were in a hidden industrial park.
There are rumors that a North East Fresno location is in the works but I think it is just a rumor.
Oh well. Below is my original post about Steak n' Shake coming to Fresno.
Original Post:
A little late on this post but… I need to talk about this Steak 'n Shake that is being built in Fresno on Kings Canyon. Yep, Kings Canyon.
This is a new-to-Fresno burger chain that is out of Normal, Illinois. It has some cult following to it, sorta similar to In & Out and White Castle. It looks like a Johnny Rockets meets Five Guys to me.
I have never eaten or heard about the place before, but I see they got something called the Cheddar Cheesy that I will be all about trying: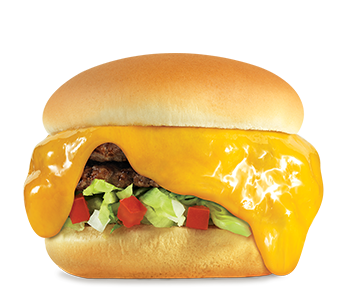 The most interesting thing about this place coming to Fresno is not the food. It's the location. A chain with some buzz around it is being built in Sunnyside area and not on or North of Shaw. About fucking time.
Of course the Internet has issue with the location
Not everyone on Facebook is down with it being at Kings Canyone & Peach. An example:

Well, Beth. That deserves some replies. Don't you think?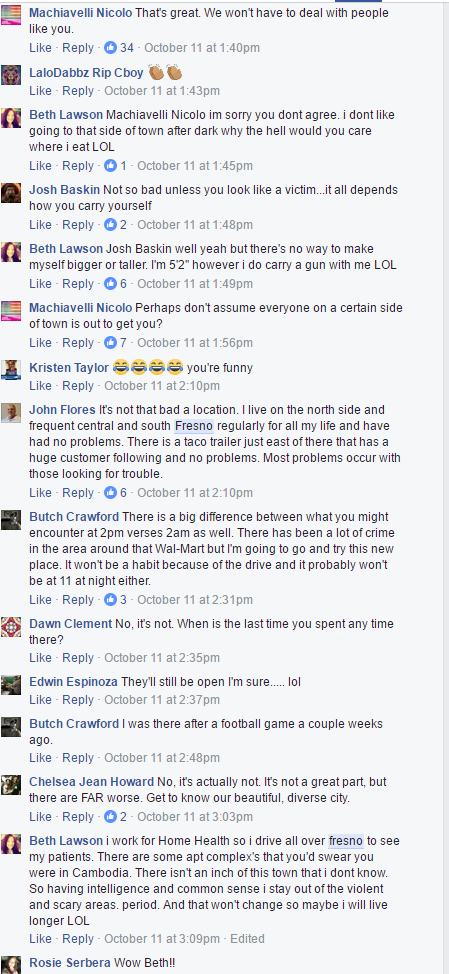 I love the last comment from Rosie, "Wow Beth!" … Wow Beth. I really like saying that, "WOW, Beth!" I think I will be using that in my everyday life from now on. Whenever somebody does something that's surprising or controversial or something unexpected happens, I will be saying "Wow, Beth" as a response. I hope you will join me.
Oh but Beth was not alone. There were others. Like, John: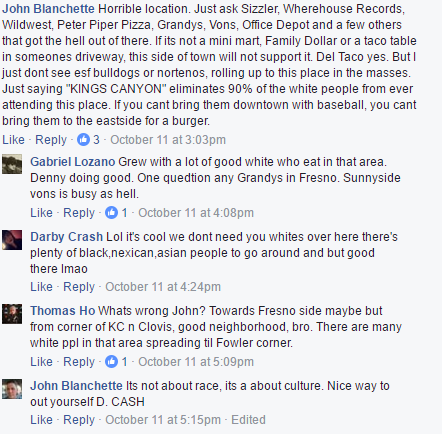 There is a lot more than those but you get the idea.
The Sunnyside Area Deserves Nice Things
Hey, a burger joint in a Wal-Mart Center might not be considered a "nice thing" but it's still cool.
The Sunnyside area deserves this. They were supposed to get a new "River Park Style" shopping area and that has never happened.
But if you still feel like your Northeast Flowvis area is "underserved", you can always look into franchising a Steak n' Shake on Willow & Nees for yourself.
Hopefully, this new Sunnyside burger joint will have Steak 'n Shake suits like the old ones:
https://youtu.be/c-1WX_OG8Zk
Don't forget: "Wow, Beth." This is a thing. It has begun.