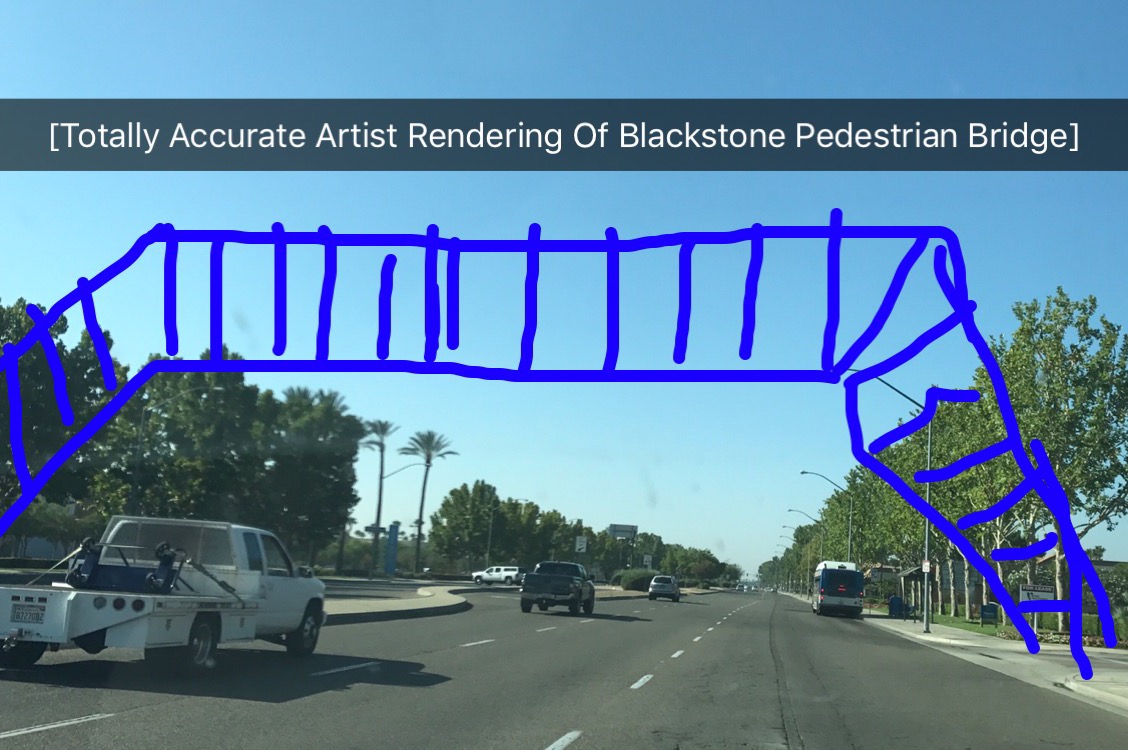 This week I saw Bike Portland talking about a bike bridge that is up for city approval (that's so Portland). It got me to thinking…
Where could Fresno use a bike/pedestrian bridge?
Blackstone & Nees. You saw the AMAZING rendition at the top of the post (big thanks to the Fresnan Art Department), so I don't have to explain the location on this one. Easily crossing over from Barnes & Noble to REI sounds cool, yeah?
Cedar & Barstow. Thinking somewhere on Cedar, between Barstow and Bulldog Lane. Ya got all the Fresno State students living West of Cedar, then you got everyone going to the football and baseball games. Seems like a no-brainer.
Mama Mia's & My House. It would make it so much easier to pick up my gnocchi if there was a bridge from my driveway that went directly to Mama's.
Blackstone & Shields. People are jaywalking here all the time. This fixes it. Probably. Plus there is a new Chipotle or something, you need to get to.
Fulton & Inyo. I hear there is going to be so much fucking traffic going down this new look Fulton Street that you, nor your Fulton Mall business, is going to be able to handle it. Money will be falling out of the sky, people will be parking like crazy and having the time of their damn lives. Fresno Grizzlies' "Parker" will finally get laid. The few people that will be brave enough to walk amongst the major thoroughfare of newly imagined Fulton Street, will need a bridge over the insane traffic that Fulton Street Mall will definitely totally have. And Clovis Girl will be able to walk in safety.
Friant & Fresno Street. You have the new shopping center on the East side of Friant and Downtown North on the West Side. Feels logical.
We are a big enough city, guys. Making it safer to bike and walk around is a major factor in making us a cool city. I'm having some fun here, but really, let's bridge.
Where else would you like to see a bridge in Fresno?
Please follow and like us: