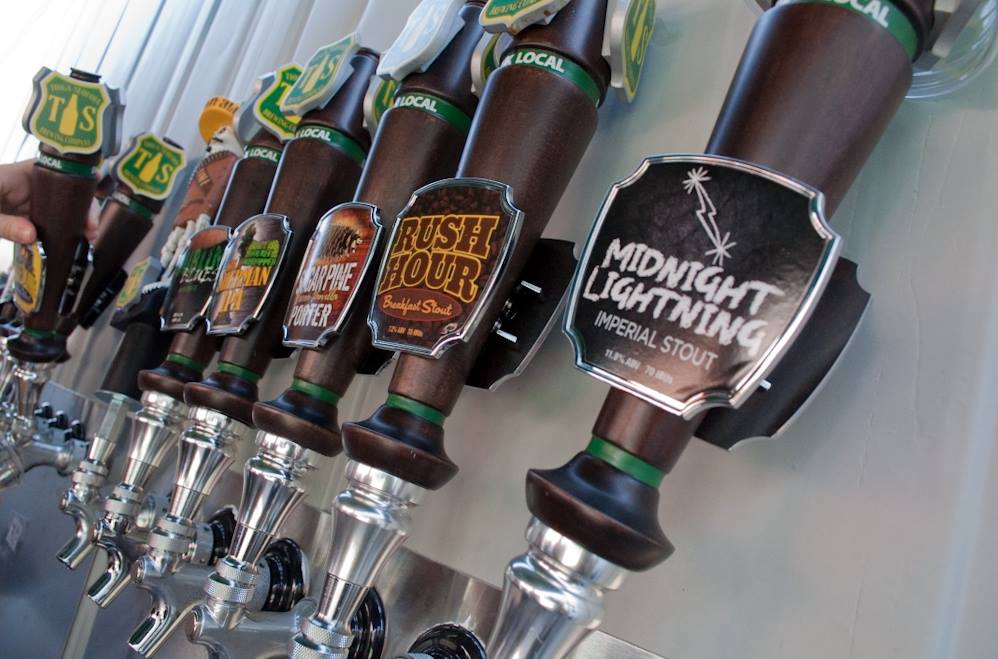 So I hear that beer is coming to some Fresno area theaters. Yeah I know, Tower Theatre has had it all along during festivals and monthly films, but it's not your everyday theater. This is different.
This is megaplex beer. A beer you can have while watching a Marvel, DC or Star Wars movie. That sounds pretty damn rad to me.
If things go as planned, Fresno's Manchester and Clovis's Sierra Vista, will be serving beer (and wine too but, whatev) starting in August or September.
Since I am part of a craft beer show, I feel a beer obligation, a 'beerglation' if you will, to help out with the tap-list. I assume they will have draft beer served in plastic cups of some sort.
Here is what I think the tap list should be and I'm choosing ALL LOCAL, baby! Because #drinklocal. I am going to guess and say there will be ten taps, so I picked ten.
This is not MY dream list, but the most accessable list matching with the best local beer.
REGAL MANCHESTER 16 CENTER TAP LIST
99 Golden Ale – Tioga Sequoia Brewing. This is the kind of beer every beer drinker can enjoy on one level or another. The most universal you can put on tap. It's a BEER.
Bog Man Brown – House Of Pendragon Brewing. Browns don't get enough attention, which is odd since most people are OK with them. There needs to be one on tap.
Hard Root Beer – Riley's Brewing. If you like your sodas hard, this one is that, plus it's super tasty.
Mt. Whitney Extra Pale Ale – Tioga Sequoia. Best pale in town (if you like them on the hoppy side) and won't get ya to messed up – aka: you can drink more.
Pacific Porter – Pine & Palm Brewing. Fresno's newest brewer and showing a lot of potential. This one is getting good buzz too.
Tenaya Red– Southgate Brewing. Everything is super nice from these guys, this red is no exception.
Lancelot IPA – House Of Pendragon Brewing. At times it is the best IPA in the Valley, hands down.
Blonde Bomber – Tactical Ops Brewing. Everybody loves blondes, yeah?
Hobo Pilsner – Dust Bowl Brewing. Excellent pilsner and it's another universal beer that would sell well.
Slauncher Imperial IPA – Kaweah Brewing. You gotta have at least one beer that's going to kick ya hard… plus I have yet (I hear it's pretty damn tasty) to try it and I just want to have it available in town somewhere.
Is this realistic? No. It's probably going to be Bud Light and Shock Top or something with similar crapness. But a dude can hope.
LETS NOT EFF THIS UP, GUYS
Hopefully, no matter what beer it is, this brings Fresno one step closer to getting one of those kick-ass Alamo Drafthouses:
Pretty rad. They do have about 22 of those Alamo places spread out through the Southwest and one in SF, so it's a possibility for Fresno.
We must mind our manners though and show people, like Alamo Drafthouse, that we deserve good beer in our movie theaters. Do you think we can do that, kids?
Let me know what beer you would want to have "on" in a movie theater or if you think Fresno can handle beer & wine at the movies! Leave a comment or Tweet me – @thefresnan.
(photo cred: WhoseCraft.com)
Please follow and like us: