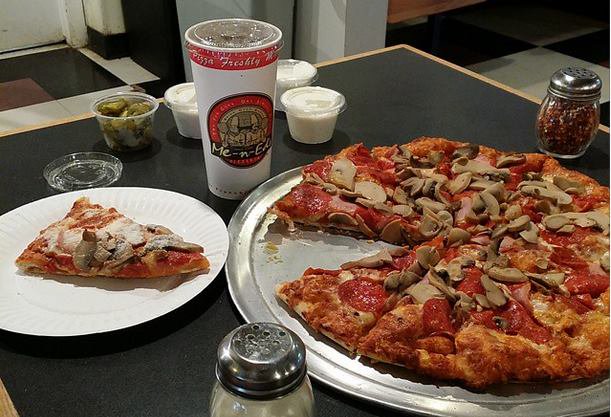 No this is not a post about the Best Pizza In Fresno. It's a post about Me N Ed's Pizza. [zing]
Kidding, kidding. I love that damn pizza. Me (Whomever this "Me" character is) and Ed, make a great pizza. A Fresno pizza. Not the best pizza in the world. Not the best pizza in Fresno.
But, it's the most FRESNO pizza.
What is one of the things you do when someone from out-of-town comes to visit? Show them some Fresno stuff, duhhh. Like:
The electronic billboard at Blackstone & Shaw.
The corner of Barstow & Fruit where Brandau watched traffic for a few minutes, didn't see a bike and stopped a fully funded road rehab from happening.
The AT&T Store that used to be a Grandy's.
After that big tour, you're going to want to take your guest out for some food. Fresno food.
First, you have some tri-tip (either from your backyard grill or [insert your favorite place to have tri-tip here]. Then you have tacos [probably from a place on Belmont]. Then some pilaf [probably your Mom's]. Then it's Me N Ed's Pizza.
Here is the part we need to think about differently
Do NOT frame it as THE BEST PIZZA! It won't work.
No outsiders will ever think Me N Ed's is the best pizza. I'm not saying that because I think it's bad or isn't the best pizza. I'm saying that because EVERYBODY thinks the pizza from their town is the best.
Me N Ed's could be the best pizza and it wouldn't matter. Pizza is the most subjective food in … food. Whatever pizza a person grew up with is what they think is the best pizza and will be closed off from accepting somebody's pizza as being better.
Close the brick oven, this is how it is and will always be. Everybody's opinion about pizza is the right opinion. No use trying to change it.
So, when you do order up some Me N Ed's delivered or head down to a location where you can pour your own beer, like my favorite one at Bullard & West, frame the argument differently.
Say, "This is our take on pizza. It's a very Fresno thing
[well, Valley and Lakewood thing]. It is local. We love it (mostly). You probably won't and that is okay."
Order your Valley Veggie. Order your pepperoni & canned mushroom. Move on.
*Picture stolen from Me N Ed's Twitter feed.
Please follow and like us: