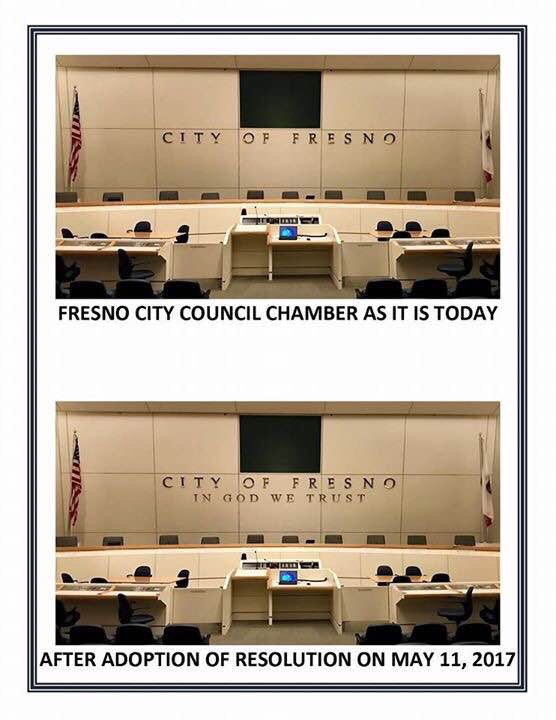 So Fresno City Councilman, Gary Bredefeld, apparently has the time to request the City Of Fresno ignore the whole "separation of church and state" thing and vote that the Fresno motto be changed to "In God We Trust."
Jesus. [smh]
Do we all really need to be thinking about worthless stuff like this? Are things that boring around council chambers? That's not even an appropriate motto for Fresno.
I can think of some other ones that would make just as much damn sense as "In God We Trust" for Fresno. Let's see a few.
CITY OF FRESNO:
In Grapes & Almonds We Trust.
Live and Let Die.
Yes. Tri-Tip Is An Actual Cut Of Meat.
Tornado Free Since 1976.
We Have Water Meters Now.
Just Win, Baby.
This Area Is Patrolled By Turner Security.
Tacos Next 17 Exits.
The Force Is Stong In Our Family.
Most Of Our White People Moved To Boise.
You're Right Back In The Mess.
Make Mine A Double.
Snakes. Why Did It Have To Be Snakes?
Cher Slept Here.
Home Of The Uncle You Barely See.
Welcome To Flavor Town.
You'd Think This Is Paula Abdul's Hometown But It's Not.
Traffic Signals Are Just Suggestions.
Pat Hill's Fu-Manchu Controls the Northern Part of the City.
Same As It Ever Was.
Roth or Hagar? We Say Hagar.
I Can See The Mountains Today.
We're As Confused As You Are.
Hey Bud, Let's Party.
No Spoilers! We Missed The Walking Dead Last Night.
Our Mom Thinks We're Pretty Cool.
We Haven't Even Eaten Lunch Yet.
Hey we're having fun here and I don't mean to bash good God fearing folk. But a statement about God (as cool a dude as he is) is just not needed here in the City Council Chambers.
Your Jesus time and energy would be much better spent feeding hungry people, supporting those less fortunate, backing your fellow church member during personal tough times and helping Fresno in other ways.
So thanks but no thanks.
Check out Gary Bredefeld talking about this subject on Even Onstot's show over at KSEE 24. I haven't watched it yet and I doubt God has either.