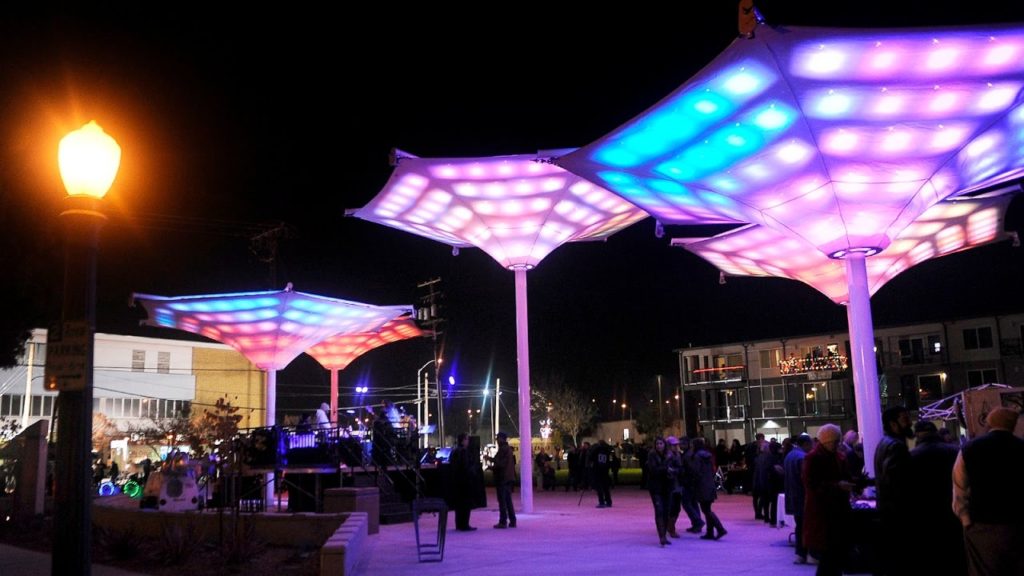 There is still time to set your goals for the year. There is always time. As corny as it sounds, I am definitely the kind of person that needs to write goals down or they will not happen, and dammit, I have goals I need to write down.
In this case, goals to post on the Internet. Fresno and creative goals.
GOAL: GO TO ARTHOP AGAIN!
Very sad to say but I did not go to one damn ArtHop last year. Thought about it all the time. Every month I'd say "I gotta go to ArtHop this month!" and never did. I even have a 9-year-old that is a budding young artist that needs to see all the talent we have in Fresno (and hang out at the Culture Arts District Park, pictured above [stolen from here]) and I still didn't go.
PROBABILITY OF HAPPENING: 80%.
GOAL: SEE MORE LOCAL MUSIC!
I think I went to two, maybe three, local music shows last year and that was mainly because of Tioga Beer Garden and Goldstiens. I know I saw, Farooq, Light Thieves, Cockamamie Jamie and some other people. I used to go to shows all the damn time. Weak effort on my part. Hopefully, the old Club Fred/Audie's Olympic location will manage to open this year and motivate me to see more shows.
PROBABILITY OF HAPPENING: 72%
GOAL: SEE A FRESNO STATE BASKETBALL GAME!
Certainly, I have gone to these games in the past but I have not been for the past couple seasons. Save Mart Center is such an annoying place to sit and watch things. But the team is good this year and worth our attention, this needs to happen.
PROBABiLITY OF HAPPENING: 65%
GOAL: EAT LESS AT CHAINS!
You know, it feels like I go to more local places than the average Fresnan. But necessity calls for the occasional chain.
You put chain restaurants on this list? Jesus. THAT is the most Fresno thing you've ever done.

— Joe (@joerulege) December 31, 2017
Hey, you try to keep a finicky 9-year-old happy by not using Red Robin and Chilli's and then talk to me about chains, brah! I think if I just cut back on Taco Bell, I will be fine.
PROBABILITY OF HAPPENING: 90%.
GOAL: POST MORE & SEND A NEWSLETTER!
There are a lot of creative projects I have going on.  But the most important of all is trying my best to be a good Husband, Dad, Son, Brother, Friend and employee at my day job. So finding the time to create posts here (something I fucking love doing) and sending out my newsletter, don't get the attention I would like.
Plus, currently running in the background, I am trying to train myself/figure out how to become a professional freelance blogger, in case one day my day job decides it no longer needs my services. So there is that.
If I get better at time managing, this will become doable.
PROBABILITY OF HAPPENING: 88%
Well, now that I have sent these goals to the Internet, they are more likely to happen, RIGHT!? Keep me accountable this year!
If you have Fresno or creative goals for 2018, I would love to read them in the comment section!
Cheers!