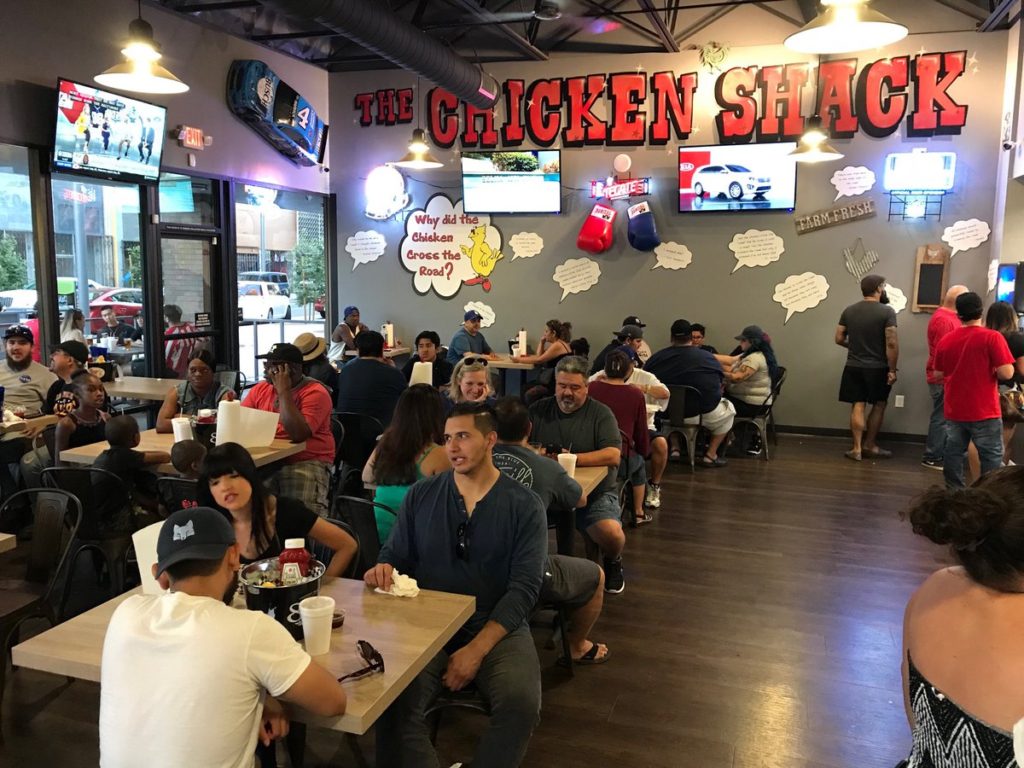 I have not been to the new Chicken Shack in Fresno, on Fulton Street. Just letting you know right now. This is not a personal review. It's compiled. Hell dude, I didn't even take the above picture, the Fresno Bee's Bryant-Jon Anteola did.
That's fine. We can figure out if this place is worth checking out all the same.
Location
1108 Fulton Street (formally Fulton Mall). Corner of Fulton & Mariposa. Located close to the Fresno Courthouse, Chuchanski Park and Club One Casino.
So it's a good place to eat if you have jury duty in Downtown Fresno.
Heck, it could even serve as a place to eat if you're seeing a show at Selland Arena or Warnors Theatre.
Hours: 10 AM – 9 PM every day.
The first Chicken Shack started in Hanford. They also have a food truck too that was very popular at this year's Grizzly Fest. But the location we are talking about is the Fresno one.
Menu
They have beer! Oh wait, we should talk about the chicken first.
Of course, there is chicken. Next level fast-food style chicken, whatever that means. Lots of burgers too. And salads. And wings. Here is their full menu.
Some things that people have Yelped:
"They have a great set up inside and a patio to eat on as well as some good chicken fingers! I ordered the #2, it's big enough to share if you're just wanting to watch some Tv, drink some soda, and have a bite to eat."
-Eric Larsen
"Got the buffalo fries, they were great. Chicken tenders cut up on top of shoe string fries. Big enough to share. Husband ordered the double shack burger combo which is HUGE and delicious. The bun was fancy haha."
-Brianna Wilson
"I have had better chicken at a Rallys…"
-Daniel Marshall
Okay, well, not everybody enjoyed it. But overall I hear many good things.
ABC 30 did a video about the place when it first opened that might be of some help:
Beer, yes, I almost forgot. They have craft beer!
There are not a ton of food places like this, that have any kind of craft beer selection. As a beer geek that gets super annoying. A Chicken Shack, there most certainly is some Tioga Sequoia on draft, so we can drink local at the very least: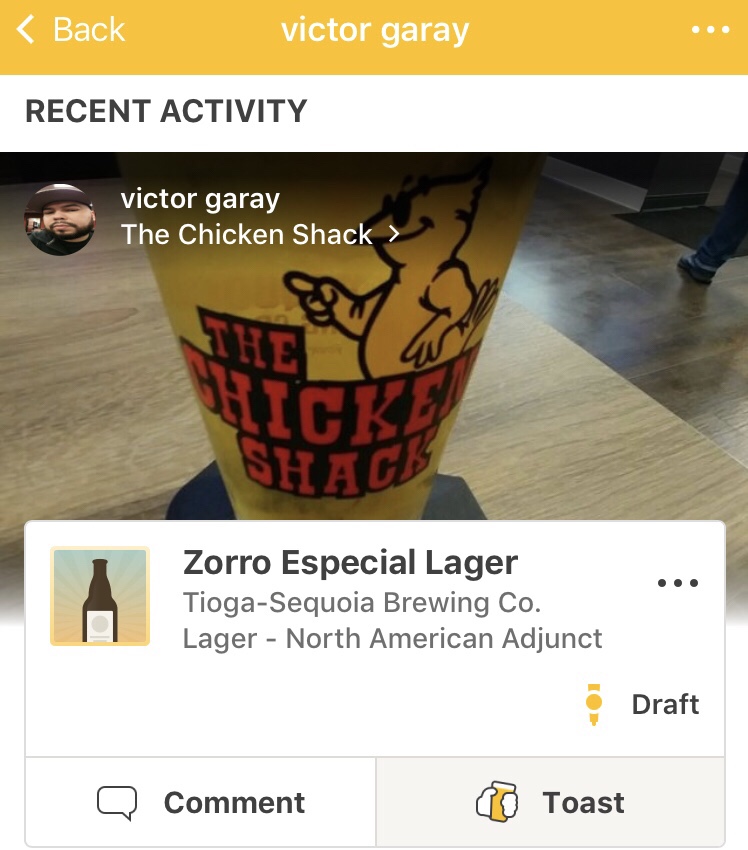 Are there things for vegetarians?
Not really. I guess you should not expect much since the place is called "The CHICKEN Shack" but you might deserve to expect something, ya know. I guess you can at least get one of their salads, without meat. Veg eaters are used to improvising when eating out.
Best Time To Go To CHICKEN SHACK FRESNO
Obviously, the best times to go to restaurants, new, old or popular, are the off times. Between 2-5 or 11:00-11:30 AM. I have heard tell that they can even be busy during the week after 2.
Pro tip: You can call-ahead your order. Much less waiting that way. (559)-724-9857.
Here's Where Things Get Weird
They painted the building blue. Which is cool because it is not 'Fresno Beige' and we need less beige around here. And they have a pretty good sign that fits well enough.
Then came the oddness.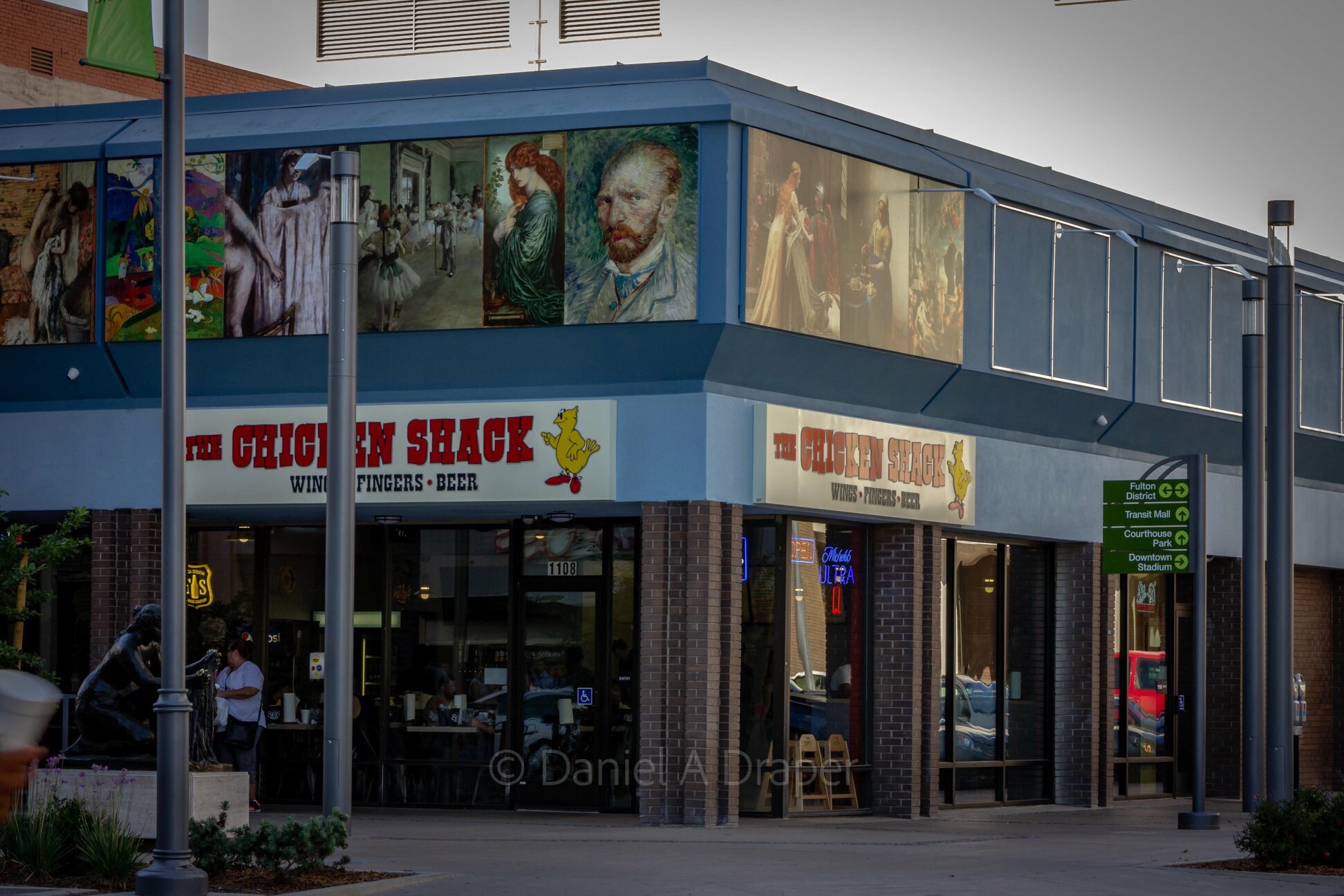 (Photo by Daniel A Draper)
They painted panels of art around the building.
You see, the Chicken Shack happens to be located on "Renoir Corner", which I didn't know was a thing until now. It's named that because of the Renoir sculpture located on that corner. So hence, the inspired panels.
But it just looks… off. The combination of the art panels, the blue and the sign that does not blend with this, makes it look a little hokey.  Now mind you, this is WAY better than just plain beige, so I guess I should shut up. Love the effort!
Listen to a review
Early on in this month's Flowing With Famous podcast, Joshua Tehee gives me/us a review of the place. Definitely worth listening to if I do say so myself:

Eventually I'll get around to eating some Chicken Shack food. If you have gone or plan NOT to go, feel free to leave me a comment on how it went or why you won't go.