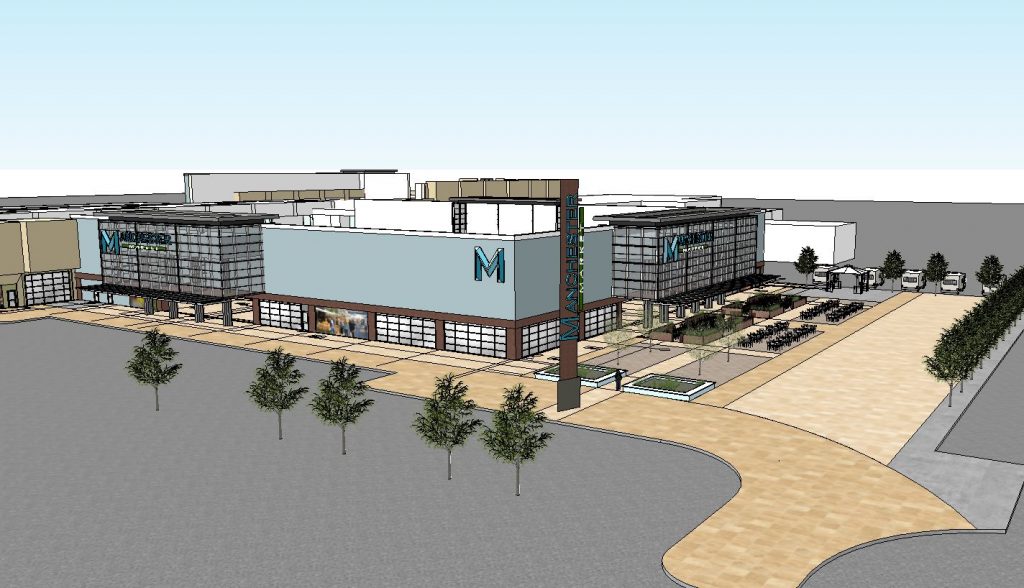 Did you see that they are going to revive Manchester Center? Yes, for reals! There will be a Chipotle and everything! You KNOW you are reviving when you get a Chipotle, Bro!
Manchester making a comeback? I bet you're doubtful like me. "I'll believe it when I see it." Well, one of the project's managers has read your mind.
"Let me be clear. I've been asked a lot and I want to be clear about this," said Benjamin Nazarian, Omninet's managing partner. "This is not 'if it will happen.' This is happening."
Super rad. Seriously. Whenever something gets a legit makeover, South of Shaw, it is to be celebrated and supported! I am excited this is happening.
So what about this Facebook comment teased in the title?
If you haven't noticed, the comment section of local stories posted on Facebook (in this story's case, The Fresno Bee) can get pretty negative and silly. My first thought after reading was "Oh man, there are going to be some shots taken at Manchester Center. Here we go."
But this one didn't quite turn out like I thought.
"Heather" posted this:

Ok well, a bit misguided about the bus stop, I think. But there is a decent point buried there that folks need to feel safe if they're going to shop and eat at this new Manchester. But that wasn't the interesting part of her comment.
A guy came up to her and asked her if she wanted to go "back in time with him?" My first question was "Did he say his name was Doc Brown? Maybe Calvin Klein?" [obviously a Back To The Future refrence].
The other would be Doctor Who. Somebody went right to it, bless their Internet hearts: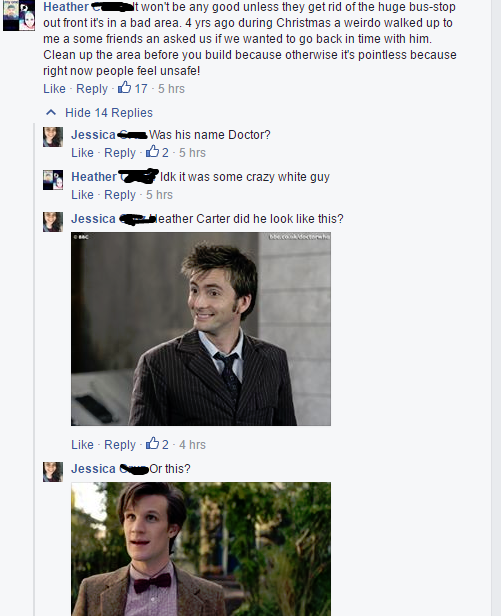 Heather is not getting the Doctor Who reference and it's freaking adorbs:

HA! Maybe Heather doesn't know Dr. Who. Understandable. But she would have to wise up to any Back To The Future references, right? It seems no: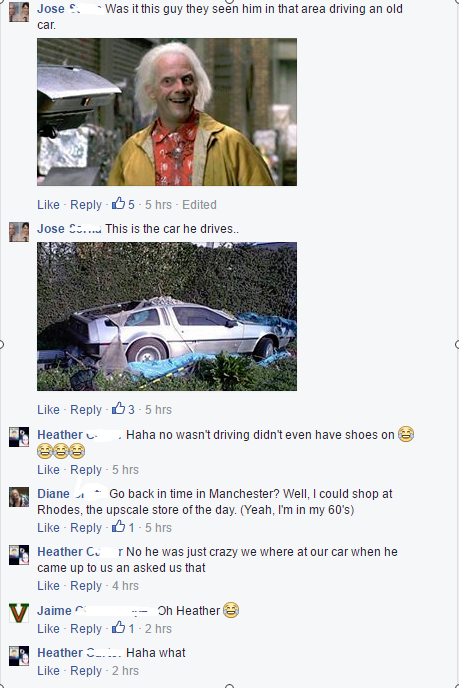 "Oh Heather" indeed. Thank you for bringing nerd joy to this blog.
Back to the Manchester remodel: There is no word on if the new look center will have a TARDIS or will be hosting any Enchantment Under The Sea dances: