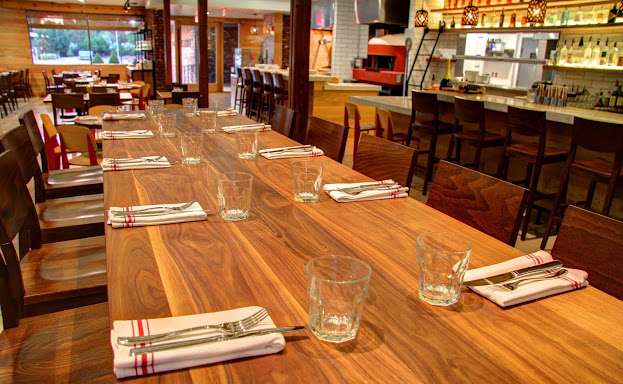 So I guess I am not cool but I have not had one scrap of food from The Annex Kitchen in Fresno.
I have recently started keeping a running list of restaurants I need to eat at in Fresno. Places I have heard other people talking about or ones that just look good to me. The Italian inspired cuisine of the Annex Kitchen is at the top of the list.
Believe it or not, Fresno has many places to eat and not all of them involve tacos. I dunno if Annex Kitchen has tacos, they probably do. This is Fresno, we love tacos, tacos are great, don't think I'm hating on tacos. But, you know, it can't be tacos every day all day. Can it?
why is Annex Kitchen at the top of the list?
PEOPLE SAY GOOD THINGS: Well, not everybody says good things because there are a lot of dickbags of Yelp. The kind of people that expect everything and give nothing. So I will overlook those reviews and take this one from some out of town person named Linda:
Went to Fresno for my first time on a business Work trip. My co-workers and I wanted to go a nice dinner that night so of course with us not being familiar with Fresno. Yelp is my go to. Found this place and reviews were good so thought we give this place a try.

The ambiance of the place when we walked in was nice. I love everything about it. You can either dress up or dress casual. The service was great and the food was just as good.

I got the squid ink noodles and it was delicious! My co-workers got the steak and they loved it! I tried a piece of the steak and it was cooked perfectly! 

I would definitely recommend this place. Too bad I don't live in the area but next time when I'm back for my business trip this will be the first stop to eat .:)
Sounds like someone needs to move to Fresno. And I can't imagine I will be trying the 'squid ink noodles' but maybe.
A Fresno native chimes in with a five-star review from CUC "Cookie Monster" on Yelp:
When I left Fresno a few years ago, I thought to myself, "I am never coming back here." Boy was I wrong! Thanks to a very good friend getting married, I had to pay this central city a visit. During the weekend, I was able to meet my preceptor again and catch up over delicious food. She's Italian so I trust her taste in food. She knows what she's talking about. I miss her.

YAY! I guess I won't mind coming back again if there's another reason and if/when I do, I expect to find another yummy gem in Fresno.
This place is making people want to come back to Fresno. Must be freaking good.
FOOD PEOPLE GO THERE: Chefs and Food Network people like Tyler Florence and Simon Majumbar have annexed and seem to have really liked it. I heard that it is, or is going to be, on a cooking channel show. So, you know, that's cool and stuff.
IT'S NOT FAR FROM THE HOUSE: This is a key point for me. I can get whiny if you make me go too far from the house, especially when I'm not getting paid for it.
IT'S ACROSS THE STREET FROM MY BANK/ATM: Paying in cash is best.
WHAT ABOUT THE REST OF THE LIST?
It may look like it but this is not a paid post. I don't think I know anybody that works at The Annex Kitchen or that owns the place. It is just sitting there on top of the list and I want to go soon.
Speaking of the list, I will share it at another time, in another post. Maybe once I have gone to Annex Kitchen. I will tell you this though, there are places on my list that have tacos, of-fucking-course.
*Picture taken from here.