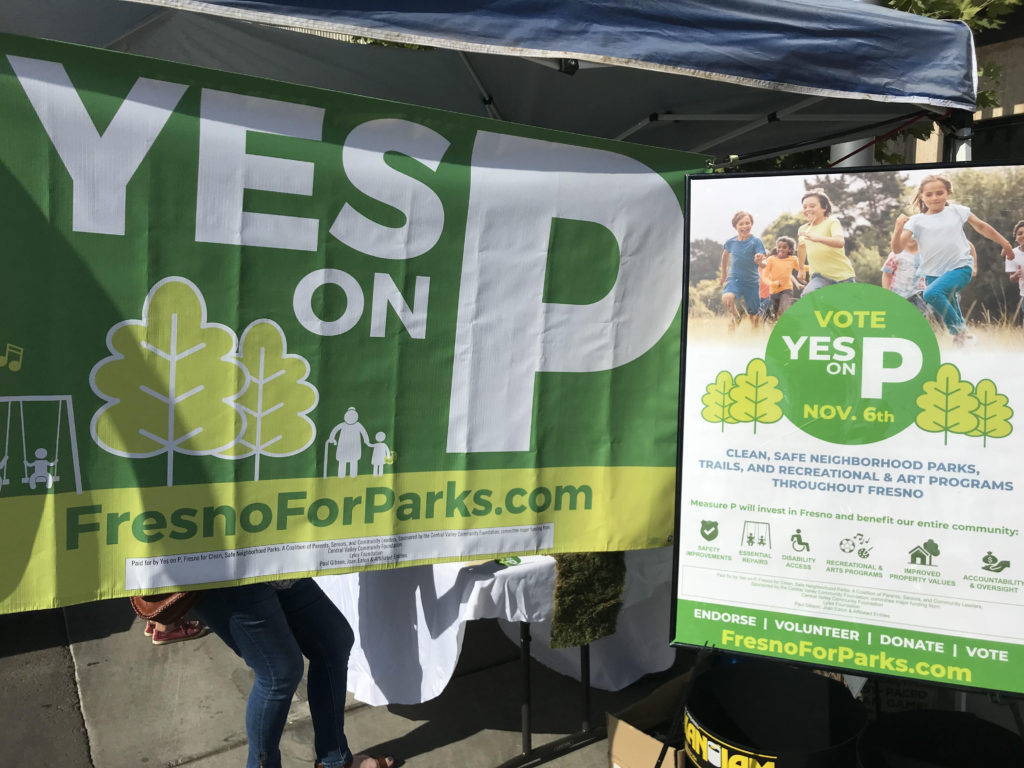 Sometimes Fresno has to figure things out its own damn self.
That's what Measure P is. Fresnans having to go around the Mayor and the City Council and get something done for Fresno when nobody else will.
Fresno is horribly behind the rest of the country when it comes to green space. At times we are the worst. The damn worst. Like, no other city in the County is worse, worse.
For a little numbers perspective on how bad we are:
A good piece by the @FresnoBee. The most jaw dropping stat:

Per capita spending on Parks:
Fresno: $35.33.
Bakersfield: $73.56.
Sactown: $118.56.

Dear lord that is sad. When Bako doubles up on us, that is bad. Please vote yes on P, this is beyond needed.#YesOnP #Parks4All https://t.co/MtfSig61Tq

— MIKEY Seay (@thefresnan) October 20, 2018
Sactown spends so much more it isn't even comparable and Bakersfield doubles us! Really!? BAKERSFIELD?! … Bakersfield?   Fucking Bakersfield.
Aren't we better than Bakersfield at, well, everything?! I guess not.
No on P People are just scared.
Having a completely funded Police and Fire force and occasionally filling in a pothole is all they care about. Apparently, that is all a city is good for.
The Mayor and all those that oppose Measure P do not trust me, don't trust you. They think you can't do two things. They think, if you vote yes on P, there is no way you have enough fire in your belly to vote yes for something else. That something else being more taxes to bolster Fire or Police.
If we really need to, we can vote yes for all the things. It's fine. Please stop selling Fresnans short.
Best thing is, I don't have to do anything but mark YES!
I won't have to plan any of this. Won't have to dig a hole or grade a field. Just fill in the box next to yes.
You might say I won't even have to pay for it because there is no way in hell I am going to notice a 3/8 cent sales tax.
What does it matter that my table's bill at Pismo's is $141.85 instead of $141.03! I don't know if that is the right math. I stopped fancy math learning around Freshman year at Bullard.
But that is pretty close to what it would look like, you get the point. It's not going to be noticeable and it will do a lot of good for our city.
If nothing else. If you never vote. Vote for this!
On Tuesday. Walk in. Mark "Yes" on P. Get sticker. Walk out.
Then one day expect to find a trail or park where there wasn't one before and you didn't have to do a damn thing.
If we don't vote yes for this now, Fresno will be stuck with the same amount of Parks. The same amount of sub-standard existing Parks. It will be that way for a long time.
You KNOW that our Council will not do anything on its own. You KNOW our current Mayor won't do anything. You KNOW it will be more of the same.
We can not have "more of the same"!
Please let's go around city leaders and get this done for Fresno our own damn selves! Vote "YES!" on P!