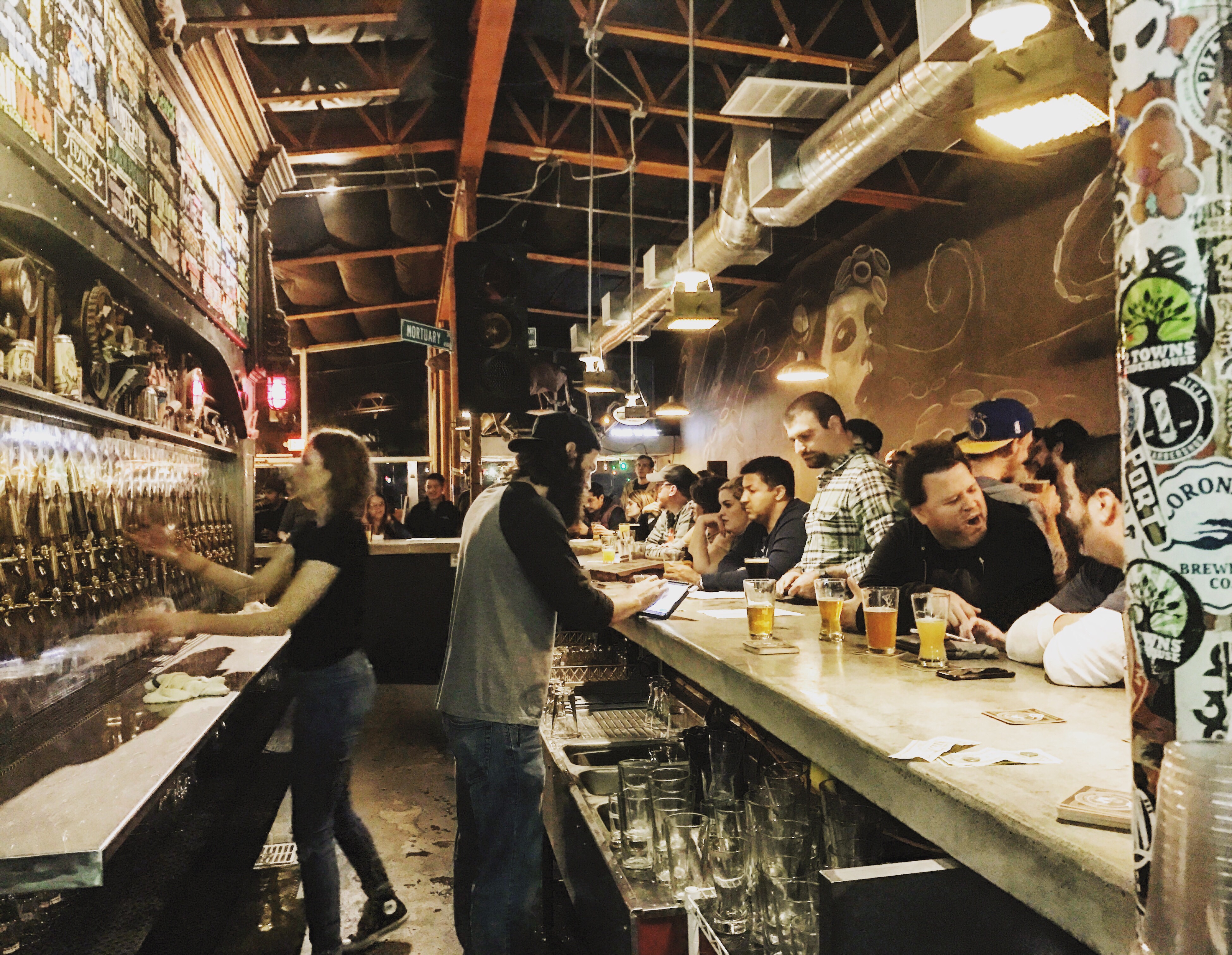 Year-end lists are the most unoriginal thing in blogging. But dammit, they are popular and fun.
So here I am, listing some places I regularly went to eat and/or drink at in Fresno this year so maybe you can go there too and keep them open for me so I can continue to enjoy. Cool? Cool.
EATING
I have a goal to learn how to cook more things in 2018. Until this happens, there's take out. Lots of take out.
TOP FIVE TAKEOUT:
Berrock Shop. The obvious thing to have here are the berrocks and chicken pot pies, but don't forget the burgers and tri-tip sandwiches.
Jack's Urban Eats. Yep, it was exciting when they installed taps. Yep, they have good tri-tip sandwiches too – regular AND BBcue style.
Formally Maria's Taco Shop. No fuss. Just straight, fast, solid Mexican food. Plus I still have memories of it being a Taco Bell.
China Bistro. The SW corner of Bullard & West, tucked back behind a fountain. Good soup. Good everything. Sweet people.
Mama Mia's – Palm & Bullard. All the things are good. Especially fond of the gnocchi. A little greasy but I think it's supposed to be, yeah?
Almost making the list are Habit Burger and sadly: Chipotle. By the way, these are all places you can sit and eat, I just primarily use them for takeout. Speaking of…
TOP FIVE SITDOWN:
Casa Corona – Bullard & West. One of the better bar atmospheres in NW Fresno, and they finally got a decent IPA on tap (Luponic Distortion), food is not bad either.
Eureka Burger. This is my go-to place. Usually a good beer selection and always good food, I usually have the Fresno Burger or chicken nachos when it's "hoppy" hour.
Popolo's Pizza. I will forever miss the old location and salad bar. But the new place still gives me enough to keep coming back. I'm partial to the baked sandwiches.
Edo-Ya. At times, the best sushi in town and the teppanyaki is great too. We all know about EdoYa, come on, just go. L.A. Roll is amaze.
Pismo's. I'm not fond of fish dishes and I still like this place. On point with atmosphere, food and service. Can't really afford to go very much but always enjoy when I do.
Honorable Mention to Yardhouse, Benadiction (best breakfast) and to South Gate Brewing for being the best out-of-town but not THAT out-of-town place.
DRINKING!
I love craft beer so you won't find a place here that doesn't have it.
Tioga Sequoia Beer Garden. It is THE Fresno brewery hangout/event space/beer release place. Great beer and Downtown views.
Goldstein's. Always a great selection of beer, nice atmosphere. Only wish I could go more when it's not so packed and hard to order beers. (Bar pictured at top)
Spokeasy's. Maybe the most genuine beer bar in town. Favorite thing is to wait for a keg to "blow" so you can see what new beer comes on while you sit there – they have a small tap system so it enables them to run through kegs rather quickly, keeping the draft list always fresh.
HOP PK. It's brand new and I have only been once but this one has been so long in coming and so needed that I am including it. Looking forward to more visits in 2018.
Pine & Palm Brewing. It is so tiny but still fun if you are a beer geek. Good news is they are expanding very soon, excited to see what's next.
Honorable mention to Full Circle Brewing. I wish they could magically move their building over by Tioga and Zack's, I'd be there all the time.
So that was 2017. The number one Fresno food & drink thing I am looking forward to in 2018 is Zack's Brewing opening their taproom on Fulton. There is a rumor it could possibly maybe open by May, fingers crossed.
Thank you so much for taking the time to read my posts on The Fresnan this year!